Alison McMorland & Geordie McIntyre 1
23/04/05
Alison & Geordie were delighted to work with Pupils at ST MARY'S Primary School, Benhall, Suffolk and MIDDLETON Primary School, Middleton, Suffolk when they were Guests at the Everyman in April 2005.
---
St Mary's Primary School, Benhall
The staff and pupils would like to say a very big thank you to Suffolk folk and the Everyman Folk Club for supporting the recent visit of singers Alison McMorland and Geordie McIntyre to our school. A great time was had by all and I was the lucky teacher who managed to stay with the band all day!!
I hope you enjoy the children's views of the experience, which show how worthwhile your support for such projects is. I am also thrilled that we have this ongoing creative partnership with you and hope that many more such days will follow which help our community to realise the richness and variety of our cultural heritage, a very important theme within the National Curriculum. It is also interesting and essential to note that the quality of singing has been boosted considerably by this inspiration. We continue to sing the songs the children mention and have achieved a rendering of The River Is Flowing, as a four part round!!
Letters from the pupils at the school:
Hi, my name is Chelsea and this article is about when Geordie and Alison came to visit Benhall school. I learnt some songs like: The River is Flowing, Coulters Candy, The Swallow Song and The Seal Song. I learnt how to get the seals to come to the edge of the sea shore by singing into a shell. Some children sang into Alison's banjo. They sang cai ur i ur i ur ! or cai u ru.
I learnt some Scottish words. I enjoyed singing The River Is Flowing. The dance was pretty easy. We got into groups and followed Alison all around the hall, swerving in and out.
I had a really enjoyable day and I would love them to come again.
Chelsea 22.4.05

Hi, my name is Sarah. I'm going to tell you about when Geordie and Alison came... I learned lots of songs like:
•Coulters Candy
•The River is Flowing
•The Seal Song
•The Swallow Song
To go with the song called The River is Flowing we learnt a dance. We got into groups and we held hands and followed Alison around the hall in and out.
Some of the children (including me) had a go at singing into the banjo. Alison showed us how to do it. You don't have to use a banjo, you can use a shell too. They will both call seals. It might sound different though.
Sarah 22.4.05
Watch out "old boys and gals" of Benhall and area, the new generation of enthusiasts is about to be launched!!
Julie Winyard, St Mary's CofE VC Primary School
Middleton Primary School
Children at Middleton Primary School not only learned new songs but also a whole new vocabulary when Alison McMorland and Geordie McIntyre visited the school in April.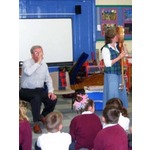 The children were delighted to learn words such as boggin', bowfin', and mingin', all part of Geordie's Clean Up song about looking after our environment.
Alison and Geordie worked with two groups - first the 5-7 year olds, then the 7-9 year olds. The younger children enjoyed singing action songs and dancing as well as learning traditional Scottish songs such as Coulter's Candy and Three Craws.
The older group became hens pecking around the midden and then marching soldiers as they listened to different types of Scottish music. Geordie produced some Victorian toys such as a top and whip and a bowling hoop. These were a great success and the children suggested we acquired some to add to the school's playground toys. Everyone was enthralled as Alison told us about Selkies and the story of The Sealwife. She then gave a beautiful rendition of 'calling to the seals', using her banjo to make her voice reverberate in a most ethereal way.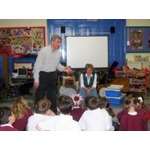 At the end of the day the two groups came together to share what they had learned. All the children thoroughly enjoyed the day and were keen to sing one of the songs to their parents at assembly the following day.. Several children have since tried calling to the seals when they have been to the beach, but so far without success!
Many thanks to Suffolk Folk and the Everyman Folk Club for helping to fund this excellent day.
Annie Clark, Middleton Primary School