Pete Coe 3
22/02/08
Pete Coe was in the area for the Suffolk Folk Riverside Event in February 2008, and we made the most of this opportunity to invite him to two schools for undertake workshops in tradition songs and music.
---
Handford Primary School
Pete spent a day in school with us and his sessions where informative, enjoyable and engaging.
He began the day with an assembly with all the children. From the first moment he had them rapt as he started without any words. Simply by gesture and look he had the children focussed. He had all of them including the adults taking part, standing up on his command following his actions. The humour was quite clever but accessible to the children. The songs were very engaging and memorable. His charisma was obvious from the start.
He then worked with classes and through songs from the folk tradition he was able to inform and excite in equal measure.
He acted as a story teller to good effect with the youngest children whose attention he held so well.
I would thoroughly recommend his performance to other schools.
Jon Trotter, Handford Primary School
Woodbridge Primary School
A live performance is the best way to introduce any new skill or art form and Pete Coe's workshop at Woodbridge Primary was no exception.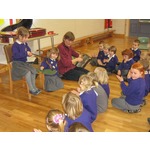 Pete came to introduce the traditions of folk music to the pupils in KS1 and lower KS2, a genre which is less visited these days. His day began with year 3, singing a variety of songs, with the banjo or accordion to accompany the children. He lamented the lack of skipping and finger rhymes known and immediately started to teach them some new ones. Old favourites like Mr Bee, Mr Bee Mr Bumble Bee and 1,2,3,4,5… and some new to the teachers as well as the children such as Dinah's Dead! and Cinderella Dressed in Yeller. The children quickly picked these up and had a great time performing them.
Pete then had a group of year 1 children. It was good for them to hear a different singing voice and they loved the chicken song, in particular turning a tea towel into the chicken in question tickled their fancy. They had not seen a banjo before and were fascinated by the accordion not just the way it sounded but the way it worked. Old MacDonald got a new twist with thin ducks, fat ducks, small ducks and tall ducks not to mention alligators and penguins on his farm.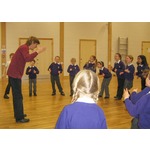 In the afternoon it was the turn of years 2 and 4 to experience the Coe magic. Singing, clapping rhythms, composing rhyming couplets all contributed to their understanding of folk music, the vast heritage belonging to our country.
It was fascinating to watch the youngsters drawn in to this music form and participating in fun activities as they learnt.
Angela Connolly, Woodbridge Primary School